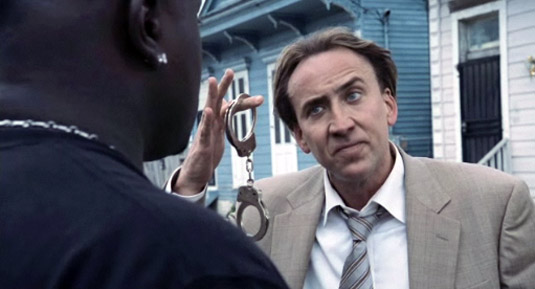 The premiere episode of the deadCENTER Movie Club is now online and ready for your download and enjoyment!
Think of it like Oprah's Book Club for indy movies. Once a month or so, we'll be announcing a movie that we'll discuss on the show. You'll have a few weeks to seek the movie out and watch it. Meanwhile, a rotating crew of deadCENTER Film staff and friends will gather together, watch the movie, and record a discussion as soon as the credits roll. Then we post the podcast, and you, the deadCENTER Film community, joins in through the comments to continue the conversation.
Our first selection is the brutally wacky collaboration between Werner Herzog and Nicolas Cage, BAD LIEUTENANT: PORT OF CALL NEW ORLEANS. We invited Herzog enthusiast Chris White to talk with dC staffers Ian Peterson, Kevin Ely, and Kim Haywood, who apparently thinks Cage's career peaked 23 years ago.
This is a work in progress both technically and content-wise, so we're really looking for your feedback and suggestions on how to make this thing more and more awesome. We're also looking for suggestions for our next selection. So take a listen, subscribe, and let us know what you think!
(Fair warning: This discussion contains some spoilers and a tiny bit of pottie mouth, so listen at your own risk)